ULLIAC VACATION LOTS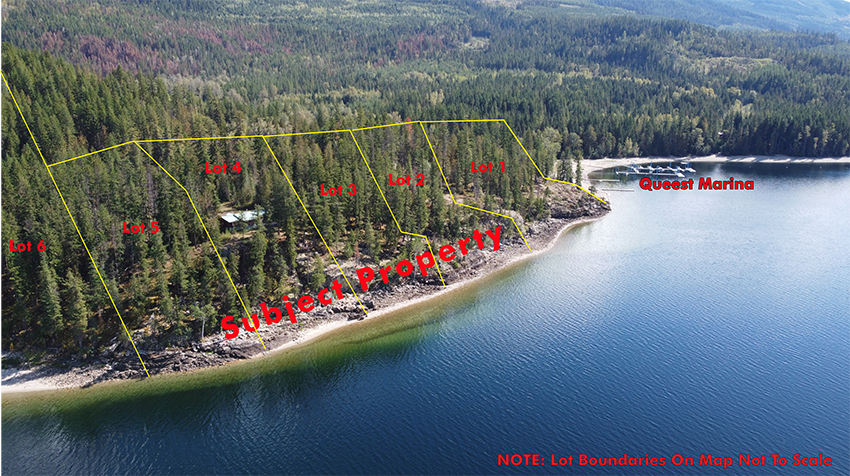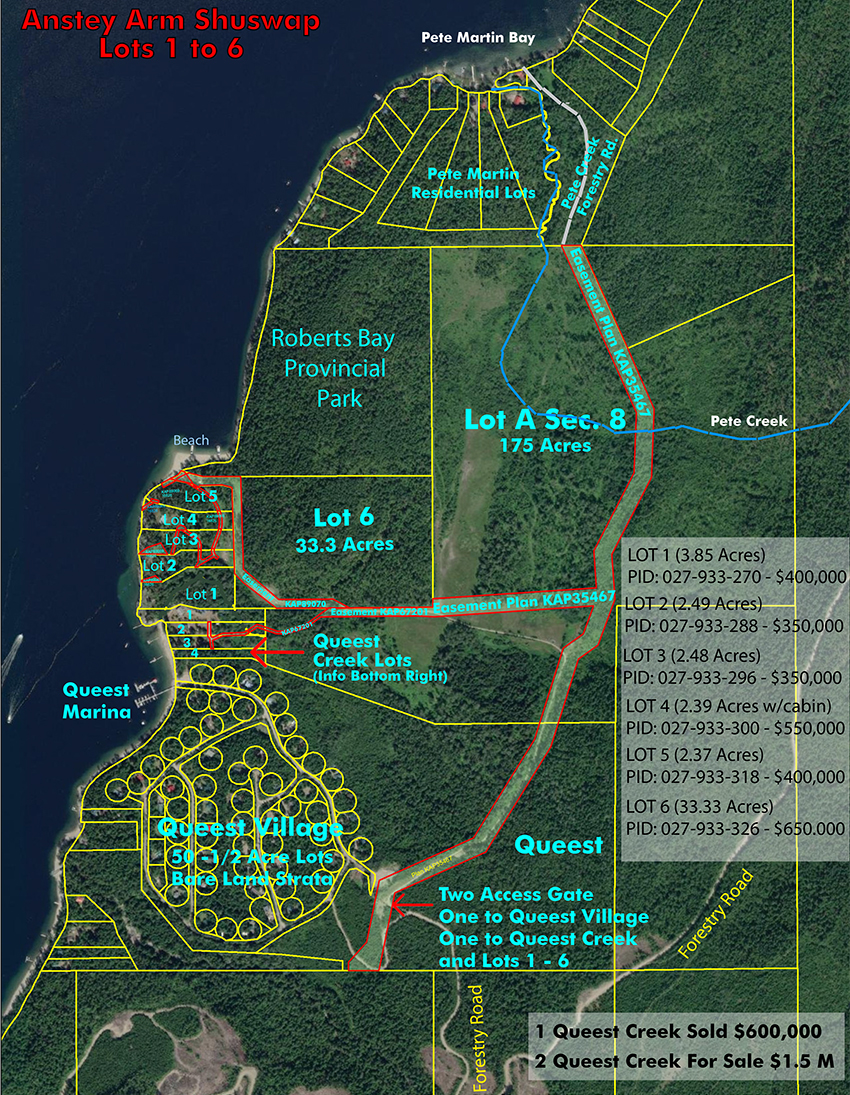 Click A Feature Sheet or Easement Below To View
LOT 1 (3.85 Acres) MLS #R2614097 PID: 027-933-270 - $400,000 (Feature Sheet & Easement)
LOT 2 (2.49 Acres) MLS #R2614170 PID: 027-933-288 - $350,000 (Feature Sheet & Easement)
LOT 3 (2.48 Acres) MLS #R2614180 PID: 027-933-296 - $350,000 (Feature Sheet & Easement
LOT 4 (2.39 Acres w/cabin) MLS #R2614229 PID: 027-933-300 - $550,000 (Feature Sheet & Easement
LOT 5 (2.37 Acres) MLS #R2614167 PID: 027-933-318 - $400,000 (Feature Sheet & Easement)
LOT 6 (33.33 Acres) MLS #R2614177 PID: 027-933-326 - $550.000 (Feature Sheet & Easement)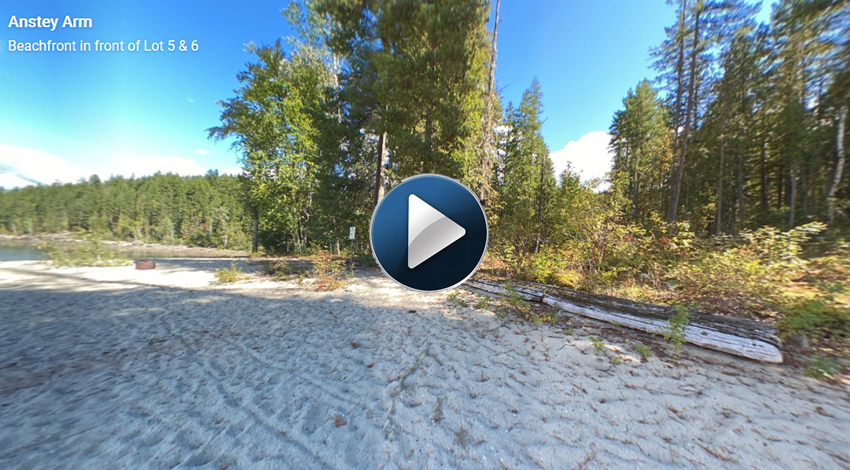 360 Virtual Tours of The 6 Lots And Roadways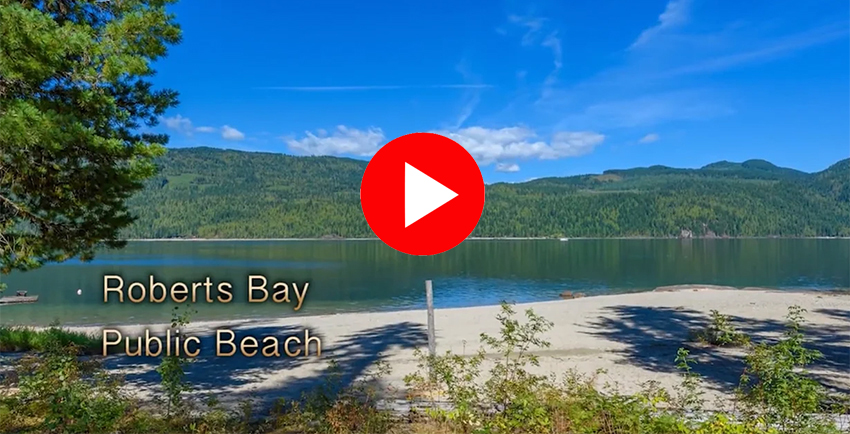 Waterfront and Road Access (6 Lots for Sale) on the east side of Anstey Arm on Shuswap Lake – North Queest , Sicamous, BC. All lots are being sold individually by same owner (Six PID's) – FIRST TIME ON THE MARKET at this price. See location map in MLS listing pictures or go to realtor's web site for aerial drone video and feature sheet. Rare opportunity to live on spectacular Anstey Arm at an affordable price. Enjoy beautiful sandy beaches of Roberts Bay Provincial Park and Pete Martin Bay. Property next door (Lot A, 175 Acres that is also for sale – call LB for more details)– Current access by boat that takes 20 mins from Sicamous or 1 hour via forestry road that is on Google Maps.

Waterfront and Road Access (6 Lots for Sale)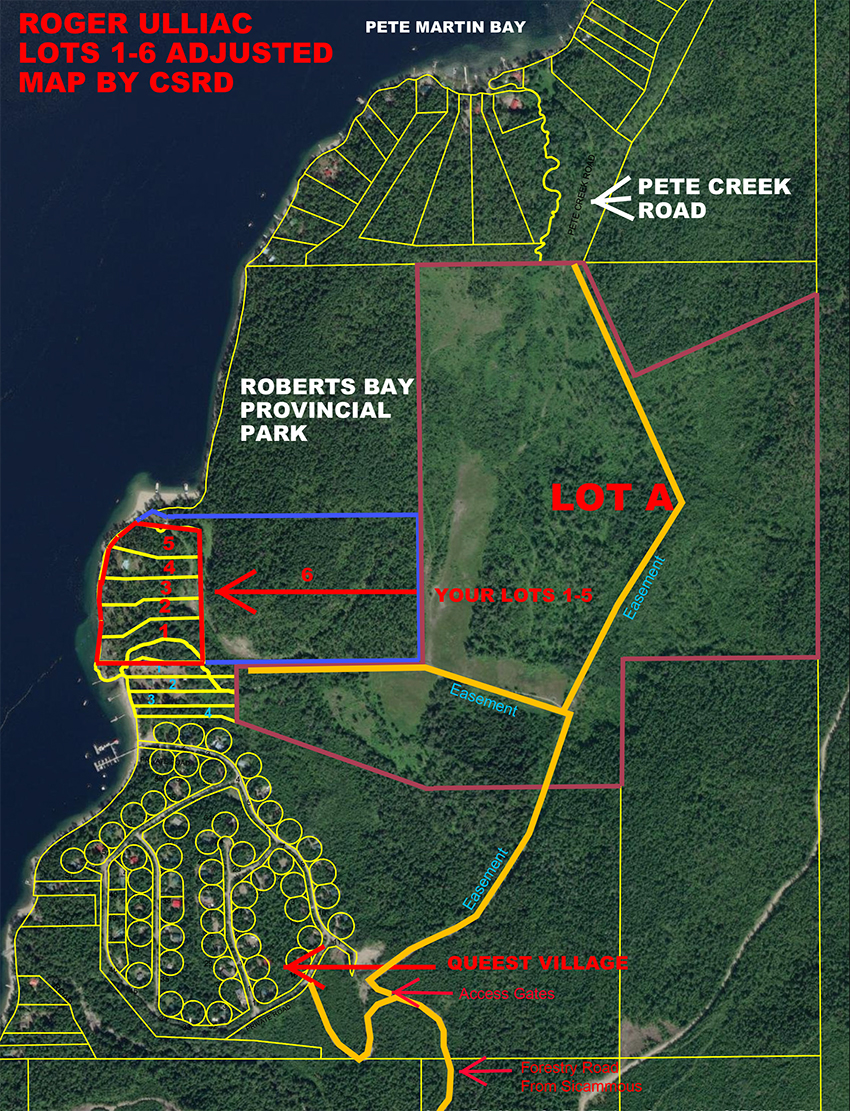 | Search Above Map On Google Maps | Click Here
to print out PDF Feature Sheet | Property next door that is for sale |
| Realtor.ca area Listings map of properties for sale | Link to video on Pixilink web site | Recreational Property Report 2015 |
| Greater Vancouver Real Estate Board MLS Listing - MLS # V1141368 | Comparable Properties for sale Nearby in Anstey Arm on Trovit.Com |
| Realtor.ca map – area land Listings in Anstey Arm | Anstey Arm district of Shuswap information - Re Zoning Proposal Document |
LEGAL ADDRESS:
COLUIMIBIA SHUSWAP REGIONAL DISTRICT RURAL SICAMOUS LAND USE PLAN KAP89068, SECTION 8, TOWNSHIP 24, RANGE 7, MERIDIAN W6, KAMLOOPS DIV OF YALE LAND DISTRICT, SEE PL AS TO LIMITED ACCESS (Covers lots 1, 2, 3, 4, 5 and 6)
Comparable Pproperties For Sale in The Area.
LOT 2 QUEEST Rural BC 1.70 Acres listed at $1,500,000
| | |
| --- | --- |
| Lot 2 Queech | Lot 2 Queech |
| Lot 2 Queech | Lot 2 Queech |
| Lot 2 Queech | Lot 2 Queech |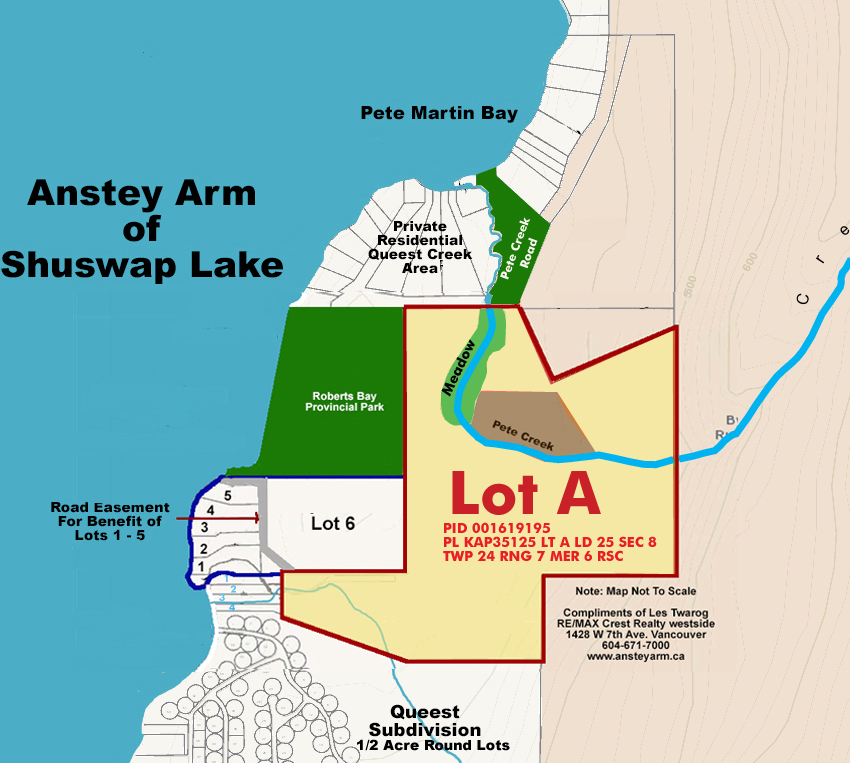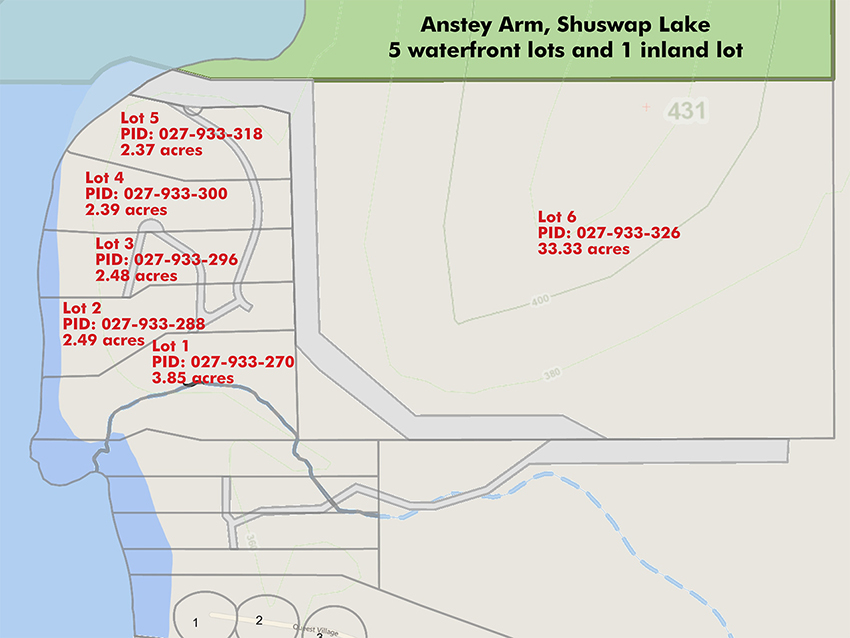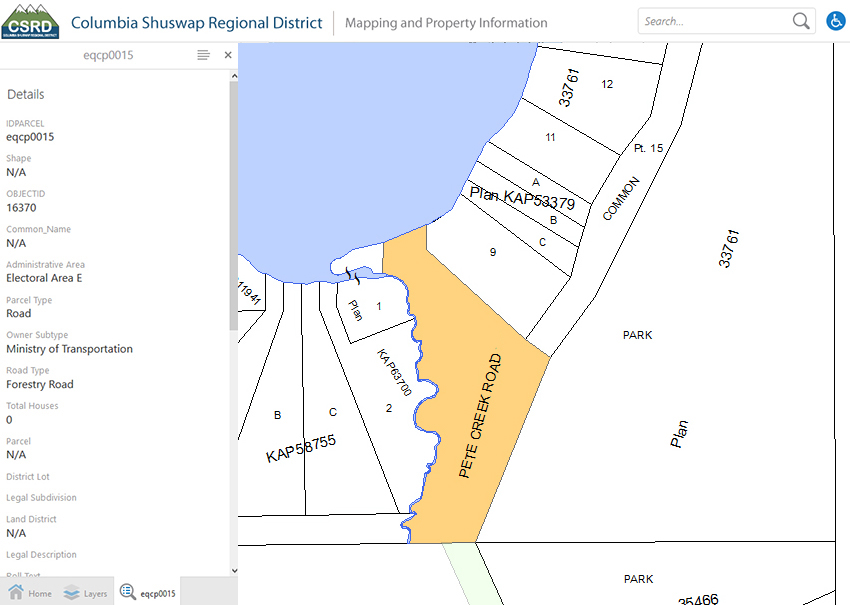 LOCATION
Lot A is located approximately 21 km from Sicamous, along a logging road that passes through the alpine. It is maintained by the logging company when there is logging in the area. In years when there is no logging it is not maintained by anyone and becomes impassable. The property can be accessed by water – 45 minutes by boat from Blind Bay.
From the waterfront there is a forestry road throug a park to Lot A.
Lot A is situated north of Sicamous on the east side of Anstey Arm on Shuswap Lake. It is set back from the lake at is not the lakefront but has access to the lake by way of a forestry road. The Ministry of Transportation and Infrastructure has advised in writing that it will not support an application for a dock on the lakefront area.The property is about 21 km due north of Sicamous and there is a road access via gated logging road.
The property is predominantly flat with a fairly steep slope on the eastern side with lots of great building sites to choose from and it appears to be an ideal for a development of a small airstrip.
The neighborhood has been developed with houses along the lake shore and is adjacent to the Queest Village Park and Queest Village development which was completed several years ago. The property is also adjacent to two provincial Park properties.
This is a chance to enjoy the benefits and privacy of a very large property with access to all of the recreational Shuswap Lake has to offer.
Sicamous  is on the TransCanada Highway one on the eastern side of Shuswap Lake between Salmon Arm and Revelstoke. It is about a 5 Hour Drive from both Calgary Alberta or Vancouver BC.
Access
Water access on Anstey arm off Shuswap Lake at the Pete Martin Bay Beach and road access on Forestry Road from Sicamous.
| | |
| --- | --- |
| Lot 5 | Lot 5 & 6 |
| Sandy Beach | Lot 5 |
| Lot 4 | Lot 4 |
| Lots 5,,4,3,2 & 1 | Beach Lot 5, 4,3,2 & 1 |
| Beach Lots 5 & 4 | Lot 4 & 3 |
Property Overview
This property located on spectacular Anstey Arm Shuswap Lake enjoys a beautiful meadow, two creeks and approximately 175 acres of useable land. Over 100 years ago this property was the home of one of the original homesteaders in the Shuswap area. The land is very fertile and with two creeks there was lots of water to irrigate the fruit and vegetables grown by the family. Today it's hard to imagine that a century ago there was a one room school on this site with approximately thirty students coming to school each day on horseback.
When looking to purchase a property one should be able to enjoy all activities that you and your family members participate in. Very rarely are properties on the market that offers this as well as being able to relive the exciting homesteader days of the past century.
At Rainbow's End enjoy access to beautiful sandy beaches, one at the Robert's Bay Provincial Park and the other in the Pete Martin Bay. (See attached map in this feature sheet) Where else can one enjoy quad biking, cycling, hiking, water activities and being located minutes from Queest Mountain which is recognized as the best snowmobiling destination in Western Canada? Your year around recreation activities are at your door step.
At the end of rainbow it is to be believed there is a pot of gold and At Rainbow's End on the Shuswap Lake it couldn't be a truer statement. There are endless opportunities available to the future owner of this spectacular piece of Shuswap real estate.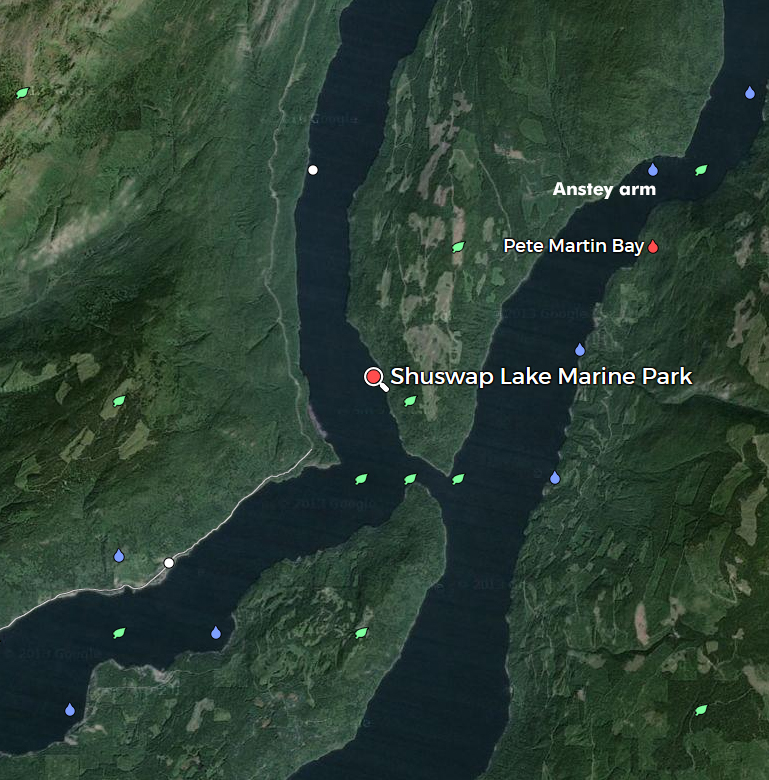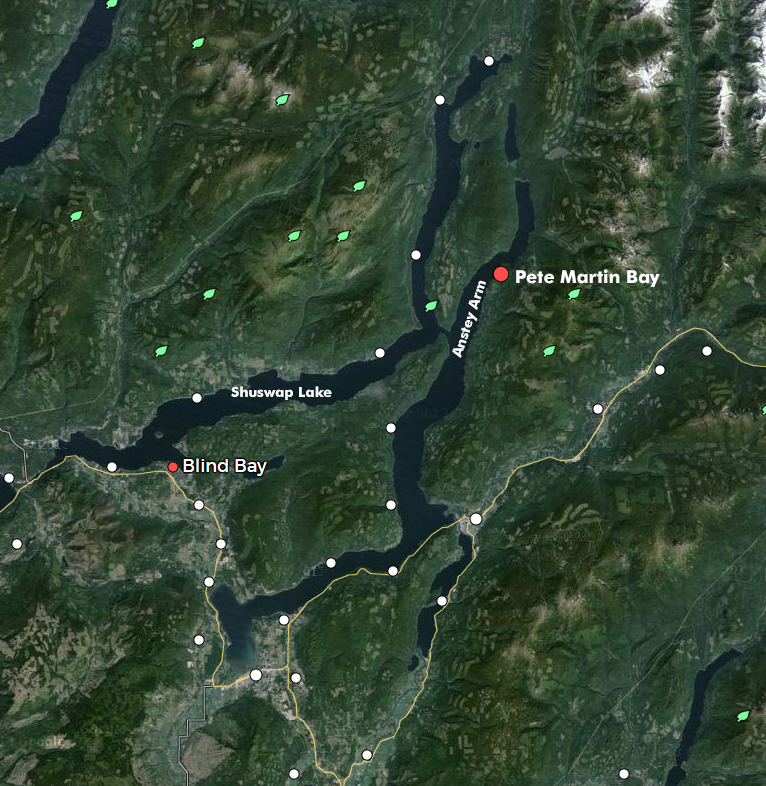 Discover Shuswap Lake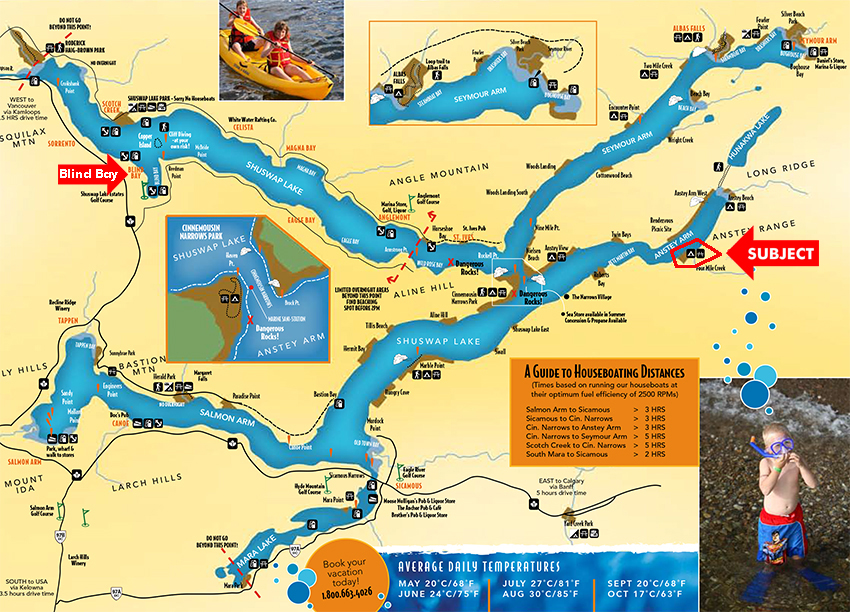 Discover Shuswap Lake: Click Here
For PDF Version
Videos Of Shuswap And Surrounding Area:
| The Shuswap A Place for all Seasons | The Shuswap | Shuswap Lake Estates | Shuswap Road Show - Things to see and do |
| Shuswap Wineries | Shuswap Dragon Boat Festival 2016 | Walking Tour of Salmon Arm - The Hub of The Shuswap |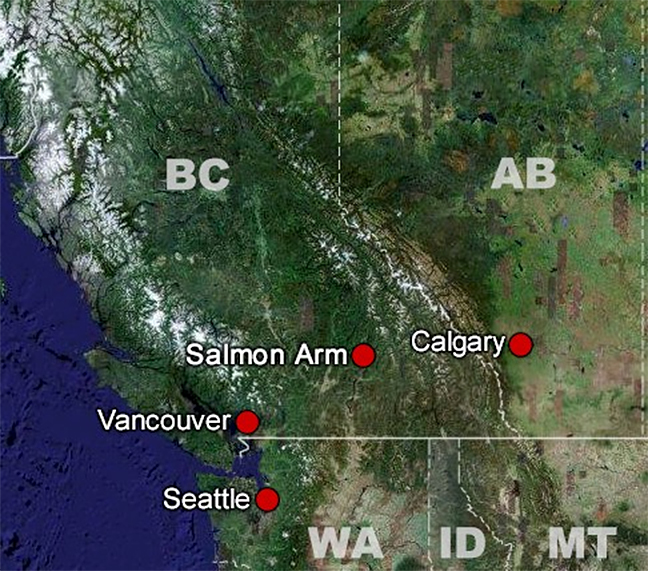 | | |
| --- | --- |
| Service Road Behind Lots | Drone Picture of the 5 lots |
| Anstey Arm | Floating Store |
| Floating Store | Floating Store |
| Floating Store | Shark Shack |
| Drone Picture of Beach Lots 3, 4, 5 & 6 | Drone Picture of Lots and Roberts Bay Provincial Park |
| Drone Photo of Lots and Lake | Access Road to Queech Village and The 5 Lots |
Breakdown of Land Use Bylaw No. 2000
Foreshore Multi-Family 1 (FR1)
Permitted uses:
Floating dock(s), including removable walkway, that is accessory to an adjacent waterfront unit
Private mooring buoy(s) that is accessory to an adjacent waterfront unit
Boat lift(s) that is accessory to an adjacent waterfront unit
Boat Launch
Dock per adjacent waterfront unit = 1
Private mooring buoy per adjacent waterfront unit = 1
Size:
Floating dock must not exceed 24 m2 in tota! upward facing surface area (not including removable waikway).
Floating dock surface must not exceed 3 m in width for any portion of the dock.
Removable walkway surface must not exceed 1.5 m in width for any other portion of the waikway.
Location and Siting:
The minimum setback of a floating dock, private mooring buoy or boat lift accessory to an adjacent waterfront unit or waterfront parcel is as follows:
5m from the side parcel boundaries of that waterfront parcel, projected onto the foreshore and water.
5m from adjacent waterfront units, projected onto the foreshore and water.
6m from a Foreshore Park zone or park side parcel boundaries projected onto the foreshore and water.
Additional setbacks for private mooring buoys:
20 m from any existing structures on the foreshore or water.
50 m from any boat launch ramp or marina.
Rural Holdings
Permitted uses:
Agriculture
Aquaculture
Bed and breakfast, permitted on a parcel 4,000 m2 or iarger in area
Cottage, permitted on a parcel 1 ha or larger in area
Farm and garden centre, permitted on a parcel 2 ha or larger in area
Home business
Single family dwelling
Accessory use
The subdivision is for a 4 lot subdivision only and the total number of dwelling units could be 8.
Sewage Disposal and Water Supply
Each of the proposed lots will be serviced by individual on-site sewerage disposal systems, and individual on-site wells. Servicing requirements are part of the subdivision process. The property is currently vacant and un-sen/iced.
Access
The subject property is currently landlocked and boat access only. According to the agent, the owner currently accesses the subject property by boat, forest service road, or personal helicopter. In a letter, MOT, being the upland owner, gave consent for a dock/moorage within the lake frontage of Pete Creek Road subject to the issuance of an access/driveway permit from MOT. As part of the permitting process, "the driveway must be designed in accordance with Ministry driveway standards and will need to comply with the appropriate environmental agencies for working in sensitive/riparian areas." The proposed dock is 8 m x 2.5 m or 20 m2 in size. There is "a secondary access by way of an easement that has been in place for thirty years" as the subdivisions in the area are deemed boat access only, and that "an alternate road access has been professionally laid out through crown land and [the] paperwork submitted to forest service and MOT.
Riparian Areas Regulation (RAR)
There are a number of creeks that run through the subject property including Pete Creek, and Roberts Brook. A RAR assessment was accepted by the province in 2009 and established 10 - 30 m Streamside Protection and Enhancement Areas on the property. Although a RAR assessment was completed for the subject property, any upgrades to Pete Creek Road, as required by MOT, wiii require a new RAR assessment conducted by a Qualified Environmental Professional (QEP). A RAR covenant may be required at the time of subdivision.
| | |
| --- | --- |
| Service Road To Lots | Service Road Behind Lots 1 - 5 |
| Service Road Between Lot 6 and Lot 5 | Service Road To Beach - Lot 5 & 6 |
| Sandy Beach & Shore Line In Front Of Lots 5, 4 & 3 | Shore Line In Front Of Lots 5, 4. 3, 2 & 1 |
| Shuswap Lake - Anstey Arm Lots and Park | Anstey Arm And Sandy Beach |
| Sandy Beach By Lot 5 | Sandy Beach & Shoreline |
| Access Gate To Lots | Cabin On Lot 4 |
| View From Lot 4 | Shoreline Dock |
| Drone Photo of Lake Lots Below | Service Road Behind Lots 1 - 5 |
ZONING
The property is currently zoned Rural with a minimum parcel size of 148 acres. This zoning allows for two dwellings. Under the proposed official community plan the zoning will change to Rural Holdings which has a minimum parcel size of 20 acres. Each parcel can have two homes the first being any size and the second not greater than 60% of the floor area of the first residence.
This zoning also allows for a standalone campsite. The property can be used to construct a back woods lodge, guest ranch, airstrip and or a Heli-pad.
The only road access to these beaches is through The Forestry Access Road on Lot A.
Recreation
Gateway to Shuswap offers superb snowmobiling in the winter. Groomed trails on the four local mountains feature sledding for everyone from the novice to the extreme rider. The deep powder snow extents to sledding season well into spring. Skiers will find the nearest slopes at Silverstar Mountain Resort northeast of Vernon, Apex mountain resort west of Penticton, Big White Ski Resort 54 KM  southwest of Kelowna and Sun Peak's Ski Resort at Todd Mountain north of Kamloops.
In the spring summer and fall enjoy the relaxation of touring boating, lake cruising on the historical Phoebe Ann Paddle Wheeler and fishing in the warm pristine lakes. For those who want to play, there is every imaginable water toy available and many amenities available at Finlayson and Beach parks. Hike the many walking and hiking trails leading to waterfalls cascading over large boulders and experience the sounds of nature while strolling through the forest.
Other area recreation include golfing fishing swimming parasailing wine touring and the commercial waterslides.
Area data for Sicamous
Population approximately 3,166
Elevation approximately 1,139 feet
Sicamous is the houseboat capital of Canada where you could snowmobile golf and houseboat all in the same weekend in the month of May. You will easily find Sicamous when you are traveling east west or north at the junction of Highway 1 and Highway 97A. The community is situated on Mara and Shuswap Lakes which are connected by a channel that is alive with activity and quite accessible.
Shuswap Lake Provincial Marine Park
Shuswap Lake Provincial Marine Park is one of the most popular boating and canoeing locations in the southern interior of BC. One of the best places to begin exploring Shuswap Lake is Sicamous, which is the main center serving Shuswap Lake. There are more than 300 houseboats that are rented out annually from the marinas on Shuswap Lake. Shuswap lake is made up of four large arms; the Shuswap Lake Maine Arm, Salmon Arm and Ansty Arm and Seymour Arm.
| | |
| --- | --- |
| View | Shoreline |
| Shoreline | Shoreline |
| Boating | Boating |
| Tangled Forest | Forest |
| View Through The Trees | View From The Trees |
| View | View |
| View | Water View |